WORKING TIME RECORDING
The argedata+ online module Working Time Recording offers user-friendly management, administration and order/project-related recording of working times in one application.
Working hours recorded simultaneously to the daily activities or at any time. With the possibility to create individual specifications according to internal working time models and tasks, the input for employees is simply done. The coordinated functionality thus increases the quality of the time recording and offers a legally compliant, reliable basis for the precise accounting of hours worked for customers or projects.
HIGHLIGHTS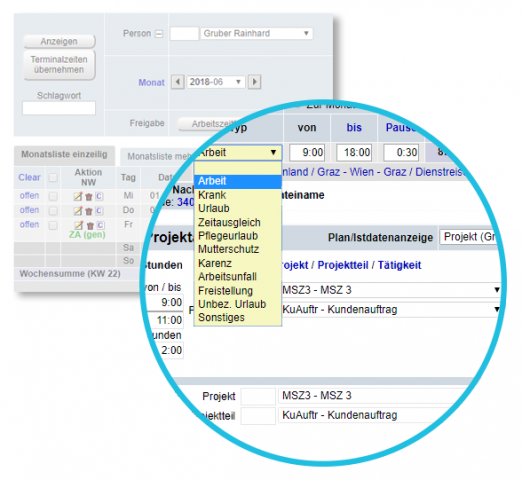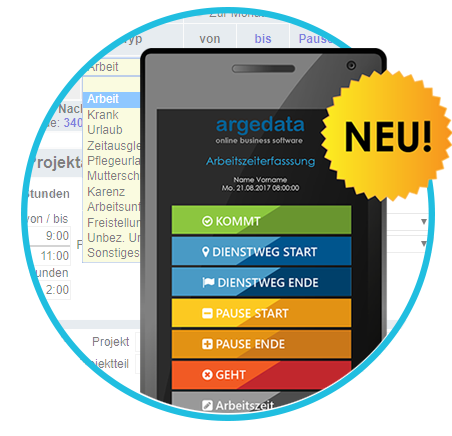 MOBILE AND TERMINAL SOLUTION
We also offer a mobile solution (smartphone, tablet) and a terminal solution with RFID. The terminal working time recording facilitates time management in your company, automates the documentation of coming and going times of your employees. All presettings are individually configurable and integrated in the mobile solution for time recording.
Your advantage of the mobile or terminal solution is the fast, cost-effective use in practice. All current, commercially available smartphones or tablets are suitable as terminal devices. The application is platform-independent and does not require any special hardware.
HIGHLIGHTS
PERSONNEL MANAGEMENT/DEVELOPMENT
Through the personnel administration you always have a complete overview of the master data and personnel costs of your employees and have the possibility to easily plan your personnel requirements.
HIGHLIGHTS
WORKING TIME MANAGEMENT/ADMINISTRATION
The working time administration offers central time management for all employees. The planning tool simplifies the efficient deployment of personnel by specifying target hours over freely defined periods for orders or projects. Duty rosters can also be created quickly with little effort and can be adapted to new requirements at any time.
From the attendance overview to the monthly working time reports, numerous control and reporting functions guarantee a quick overview and reliable documentation that leaves no questions unanswered, even during audits. The export of all reports in common formats is available at any time.
Control functions guarantee an overview of compliance with legal requirements for breaks, maximum daily working hours and overtime. The complete documentation immediately indicates any overruns. You are optimally equipped for (GPLA) checks, as clear evaluations are quickly available in all common formats.
HIGHLIGHTS
OPTIONAL ADD-ON MODULE
TRAVEL EXPENSE ACCOUNTING
A practical extension for entering travel invoices gives you an overview of all business trips in your company as well as simple, legally compliant accounting.